Work from home is here to stay.  You're looking to setup or upgrade your home office and wondering what you should do for printing. Here are 6 things to consider to evaluate the best home office printer for your needs.
Multifunction printers (MFPs), are essential home office all-in-ones for printing, emailing, scanning and faxing. Don't forget about copying. The best home office printers meet all your document needs, not just printing. Here are 6 things to consider to evaluate the best home office printer for your needs.
Is it for home use, office, or both? 

Home use is probably printing photographs, which inkjets are well suited for. Office use printers need to support emailing, scanning, printing and faxing. You'll want a laser class multifunction printer. Most of these devices come with an automatic document feeder (ADF) to handle multiple originals for email or scanning.

Does it support Wi-fi?

  Most home networks are wi-fi enabled and you'll want your printer to support wi-fi, so you don't need a network cable. Furthermore, most of the devices come with setup software so you won't be fussing too much with network settings.

Can I scan-print directly from Office 365 or Google Workspace? 

Chances are high your organization uses Microsoft Office 365 or Google Workspace, formerly known as G-Suite. You may want to consider MFPs that scan or print directly, especially if you work from a tablet.

Can I print from my iPad or Android tablet?

iPads and Android tablets are great home office tools, until it comes to hardcopy documents. More often than not, its difficult to integrate hardcopy documents and tablets. Thats where a good MFP can bridge the two worlds.  Scan a multiple page document into Office 365 or Google Workspace.  Or print a document from your tablet.

Can I get an onsite service plan?

  The most often overlooked aspect of printers is hardware support. Some manufacturers offer onsite hardware support, some offer just a depot option. Chances are you never thought of a printer breaking until it does and you don't have a real option to repair it. Onsite service plans can be a real difference in a pinch.

Can I order OEM supplies online?

  Ink, or toner, is the primary consumable with MFPs. Each manufacturer carries consumables for each MFP and sometimes its hard to remember what the supplies items are especially when you're trying to print an urgent document. It's a time saving feature to have online ordering that is tied into your MFP brand and model.
Our recommendation: 
Best home office color laser MFP
Xerox Workcentre 6515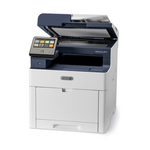 If you are setting up or upgrading your home office and want a color laser MFP that is small, easy to setup, simple to use, and painless to get toner and support, the Xerox Workcentre 6515 is our choice.
A color MFP with a footprint of 16.5″ x 20″, and a height of 20″, its perfect at the corner of your home office.
Wireless network is standard so you don't need network cables.
The CD that comes with device guides you through the setup. We got it up and running in 15minutes from unboxing to printing from our notebook.
Printing and scanning integration with Microsoft Office 365 and Google Workspace
Furthermore, with Xerox eConcierge program and the Supplies Assistant, the Workcentre 6515 supply levels are monitored and you're notified when to order replacements. If you sign up for the eConcierge Program, you're directed straight to the supplies page and order Xerox supplies and qualify for free Lifetime Warranty, which includes onsite hardware fixes.
Call us at 973.226.0100 or fill out the form below and we'll reach out!